Greetings rapier fighters! Looking for low- or no-equipment ways to improve your swordsmanship?
There are many activities you can do at home without extra equipment. This is one of a series of posts on homework you can do to improve your rapier fighting. As always, come out to Populace in the Park every week to practice, ask questions, and get feedback. See you soon!
---
Other posts in this series: Build Your Foundations 1
…or check the #at-home practice tag.
---
Some rapier fighters come to our sport with a background in martial arts, fencing, dance, or other sports. But many rapier fighters pick up the sword as their first athletic activity! Many foundational skills that sports activities build might be missing in our newer rapier fighters. But what are these skills and how can we train them now? Welcome to your journey as an athlete!
Foundational Skill: Body Awareness
Body awareness (also known as kinesthesia and proprioception) refers to knowing where your body is located and how it is moving in space. This is key to improving your training. Being aware of what your body is doing will help you identify what needs changing or when you are doing a movement correctly.
Almost any kind of physical activity can build body awareness, if done with focused intention. Take time to consciously think about the movements you do every day — putting down your cup, bending over to pick up your shoes, standing up from your chair or couch — and consider what muscles you are using to do them.
What happens if you also use the muscles around them?
The muscles farther away?
Where is your weight sitting or shifting?
One activity that centers this kind of mindfulness and movement is yoga. A favorite yoga channel for many of us in Bryn Gwlad is Yoga with Adriene. She has guided practices from less than 10 minutes to about 30 minutes long.

Here are a couple options to start with:
Another favorite in the community is Guy Windsor.
His Human Maintenance Course is free to enroll online and gives you the tools to maintain many of the physical aspects we use in swordfighting. I especially recommend his Arm Maintenance Course.

He also has a variety of useful blog posts and other online courses.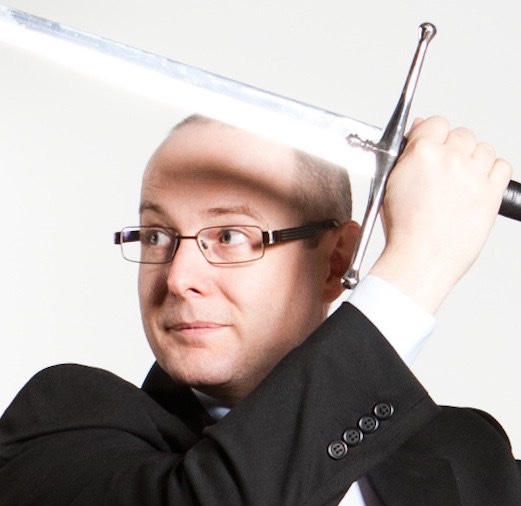 Remember that no matter where you are in your journey, each step is progress.

Thanks for reading, and we'll see you on the lyst field!

In Mindful Service,
Honorable Lady Nadja, Rapier Marshal of Bryn Gwlad
---